I posted this on Facebook, but since one of my complaints was about the dying off of the forum and the community around it, I thought I should also post it here so people can discuss it. Yes, it's a long read. Live with it - or skip it, your choice
Bloodstock has long been my favourite festival. But it's lost much of its shine in recent years. I'm not alone in thinking that. So what's gone wrong? A number of things, but by far the biggest one has to be the lineup. Here's a summary in graphical form: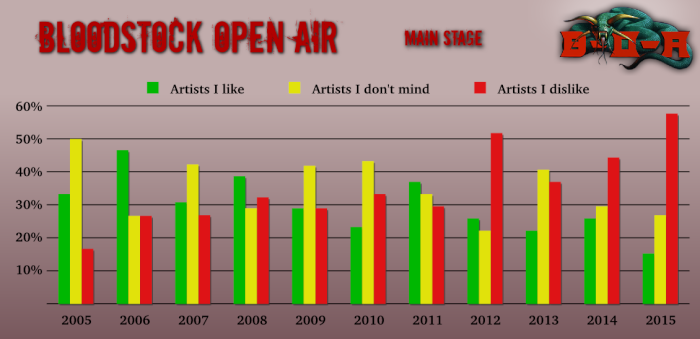 I've split it up in very broad terms into three groups, shown as a percentage of the total number of bands playing on the main stage. Firstly bands I like, those that I listen to on a reasonably regular basis and would go and see were they playing locally. Then there are bands I don't mind. I'm quite happy to listen to them, but they might not be enough of a draw on their own for me to see them live. Other bands on the same bill might tip the balance, but I probably wouldn't go out of my way to see them on their own. Thirdly, there are bands that I really don't like. I'd never voluntarily listen to them, and I wouldn't see them live unless they happened to be playing with another band that was compelling enough for me to buy a ticket to the show.
As with any festival, there are years when the lineup is more to my tastes and years when it's less so. But for the first few years of its outdoor existence, the festival was pretty good for me, with a good mix of bands. As the festival's grown, more bands have been playing each year, so you'd expect the totals to even out a bit over time, and that largely seemed to happen until 2011. But what happened in 2012? The mix of bands took a huge nosedive for my tastes. As a largely optimistic person, I assumed it was a one-off and waited for the following year. But 2013 wasn't great either. Various people had voiced their concerns, but the official word from the organisers was that it was just a case of various bands being unavailable at the right time and the right price and that future years would be different. Here we are, several years down the line, and even my natural optimism has been exhausted. I no longer believe this is just a random set of circumstances that have caused the festival to book fewer bands that suit my tastes. The chances of that having happened by chance for four successive years seem extremely slim, and I've come to believe it represents a deliberate change in booking policy.
Whether that's bad for the festival as a whole is another thing. The number of attendees is rising each year, so they must be doing something right. Growing the festival means booking a wider range of genres, and I'm fine with that. I think they could have done so without throwing their core fanbase under the bus, however, which is what they seem to have done. Oh, and speaking of growing the festival, there may be some that would claim it's about more than just the main stage. That's true. However, I re-did the graph to include both the main and second stage, and the numbers came out even less favourably. And while I've found some real gems on the unsigned stage (and also seen a lot of shit), the reality is that I don't go to a festival to see unknown bands, so I'm not going to include them.
On the subject of genres, I've heard from a few of the Bloodstock team that genres are meaningless and that it's all metal. Frankly, that's bollocks, and I have little respect for anyone that claims that. Genres are useful labels that help people discuss in broad terms what a band sounds like. Nothing more. Yes, like everything else, it can be taken too far. But Dying Fetus sound very different to Europe, and claiming they're all metal helps nobody. If I like one, I might also like the other, but the chances are slim. However, if I like one band in a genre, the chances are much higher that I'll like another band in the same genre. If someone's complaining that there's too little power metal or symphonic metal or brutal lesbian purplecore metal or whatever, the correct response should not be to claim that those genres don't exist (OK, so the last one probably doesn't, but the point stands).
What else is wrong? Well, I worry that the Bloodstock team are reacting badly to criticism. I've been unfriended on facebook by some of them after being accused of being too negative. Now I don't worry about that in itself. I couldn't care less whether they want to read my ramblings or not. But surely you might want to take that criticism on board and try and make things better, rather than shutting out those that are telling you what's wrong? This attitude is exemplified in their dismissal of the Bloodstock forum. The forum created a community around the festival. Like any other community, it had its good elements and its bad. But by and large, it was populated with people that cared about the festival. Since 2012, there has been an increasing amount of criticism of the festival on the forum. The response has been to just ignore the forum altogether. I've been told by several of the organisers that they no longer even look at the forum, and ignore anything that's posted there. It's too negative, apparently. They hate everything. So much for "by the fans, for the fans". For all its faults, the forum is populated by a core group that go to the festival. The Facebook page, on the other hand, which seems to be beloved of the organising team is liked by masses of people, a tiny fraction of whom will ever buy a ticket and attend the festival. Perhaps if there's criticism, it's because things are problems that could do with addressing. Hiding in a crowd of yes-men on Facebook that will tell you everything's great might make you feel good, but IMHO it's not the right approach.
Speaking of the forum, what a disaster! For several years, a community that supports the festival has built up. Last month, they took the forum down for over 2 weeks "for upgrades". From my perspective as an IT professional, that's literally inexcusable. The upgrades in question seem to be giving up on the forum and handing it off to a third party rather than running it in house. The third party in question, Forumatic, seems to run it on servers that simply aren't up to the task. It's now dog slow and where a page would previously load almost instantaneously, it now takes up to 10 seconds or so. Anyone in the web usability business will tell you that anything more than a couple of seconds leads to a significantly downgraded user experience, and people just won't bother. Then there's the updated look of the site. It's *dreadful*. It's like someone's let a child loose with crayons. It's so garish and unpleasant on the eye that it's actively driving users away. There have been some minor improvements since the relaunch, but it's still hideous. I've had to come up with a custom style sheet to make it look better, reducing the contrast, making a clear visual separation between posts, etc. But while that works, it's not something that new visitors to the site are going to see, and it's not something that will work on the majority of mobile devices. If the festival wanted to drive away the community that it's acquired, then the current state of the forum is a great way to go about it.
What else? Well, I'll freely admit that I'm biased on this, but WTF are Triaxis doing opening up the Sophie stage? The band blew me away when I first saw them in 2009 and I've followed them ever since. I'm overjoyed that they're playing the festival this year, and indeed, they were the tipping point that guaranteed my attendance this year. But they've done everything right. They've put in the work, toured the country, playing shitty little venues, building up support to get to where they are now - a band on their third full album, with an established fan base. Frankly, giving them the opening slot is something of an insult. What more do they need to do to get a higher slot? So much for Bloodstock's claims of a commitment to supporting up and coming bands. I wouldn't mind were the rest of the lineup stellar and populated by bands that were obviously bigger. But no, I haven't seen a single request for the bands playing immediately above them. Indeed, I haven't found anyone that's even heard of those bands. I can only assume they've been placed there due to record company money. I appreciate the commercial realities of running a festival may necessitate such things, but it still leaves an unpleasant taste in the mouth. For the record, I'm not the only one to have noticed this discrepancy, and others have been even more vocal about it than I have, even those that aren't as big fans of the band as I am. It really does stick out like a sore thumb, possibly the worst misplacement of a band since Sabaton's ridiculously early slot in 2009.
I've been going to Bloodstock every year since it first started in 2001. I know several of the organisers of the festival, who on the whole have been very good to me. Indeed, I can point to several bands over the years that I know have been booked specifically on my say so, and for that I remain very grateful. Some of them, if they read this, will no doubt be unimpressed. Tet's being negative yet again and sounding like a broken record. Maybe so. But I like to think I have cause to do so. I'm not just complaining for the sake of it. The festival remains very close to my heart, and I want to make it the best that it can be. The balance of bands is simply poor, whether it be the overabundance of thrash bands that we had a couple of years ago or the excess of what I heard someone amusingly describe as "beard metal". Sure, some genres are more popular than others and the lineup should reflect that. Maybe groove and death metal are dominant in the metal world today (I'm not convinced, but let's run with it). But it's possible to represent those genres without completely screwing over those of us that prefer things from the more melodic end of the metal spectrum. Why have Bloodstock chosen not to do so? Your guess is as good as mine. Folk metal fans have similarly suffered in recent years, and I have to feel sorry for glam metal fans who have been overlooked for a very long time now.
Within Temptation last played at Bloodstock in 2005 and they went down well. They return to headline the Saturday this year, and I fully expect them to go down like a lead balloon. Why? Well because there isn't a single other band playing on the Saturday that will appeal to the vast majority of the 9000 or so that saw them at Wembley last year. Filling the rest of the day with death, black and grindcore bands is almost setting WT up to fail. I know several people that like the band and would have gone to see them, even if only on a day ticket rather than the full weekend, but won't because of the rest of the lineup. That sentiment is true of the festival in general. It used to be a great weekend of music and catching up with friends. But the social aspect has dramatically decreased for me. The change in lineups has pushed away many of those with whom I used to socialize and they no longer attend the festival. The organisers will no doubt point to some of the relatively poor crowds for the more melodic bands in recent years as a justification to not book more. But it's not that simple. If there isn't enough else on the bill to get fans of melodic metal to buy a ticket, then of course the melodic bands aren't going to go down as well. It's a two way street.
Well, this has ended up being somewhat longer than I expected. I'll end with a couple of quotes from others. Big D used to be a regular at the festival and on the forums. On his blog, describing the last festival he attended, he wrote "I hung around the Bloodstock forums for another five years before realising that I didn't really belong there anymore and walked away. Another chapter closed." I hope that's not part of my future. I *want* Bloodstock to be somewhere that I belong. Maybe the festival's change in direction will leave me behind and it'll be commercially successful but not something I want to attend. But I do believe it's possible to avoid that fate. My friend Lorraine has always gone to the festival, as have I. In previous years when asked if she was going to Bloodstock, the answer would always be an immediate "of course". Now she says it's changed to "I hope so". That perfectly sums up how I feel. I *want* it to be a fantastic weekend, and a festival for which I can buy a ticket in the knowledge that it'll be great. That used to be the case in the past. Will it be the case again in the future? I hope so.